Manufacturing Capabilities
Float and Fuel Cell manufactures over 250 different PMA replacement fuel cells and holds multiple STC design approvals on various modifications
FFCM holds several TSO-C80 approvals including both nitrile rubber and urethane constructions
FFCM custom manufactures fuel storage bladders and pillow tanks
FFCM specializes in vintage aircraft fuel cell replacements and can build to your specifications for experimental/homebuilt aircraft fuel cells
FFC's fuel cells are manufactured with a proprietary nitrile rubber compound, the product of numerous years of intense research and development.
Soft, flexible and easy to install — will not become stiff and brittle.
Fuel cell fabric has an integral fuel vapor barrier, eliminating seepage problems and making them stronger, longer lasting and more resistant to porosity.
Hand-built by our staff of highly skilled, professional technicians to stringent FAA standards.
Autoclave cured (not cemented) seams give superior strength and durability.
Glue and solvent are also made from the same nitrile rubber formula in our manufacturing plant to ensure superior quality and consistency of the product.
Flexible nitrile rubber nipples externally reinforced to prevent clamp damage.
All fuel cells meet or exceed the TSO-C80 standard.
All fuel cells are inspected during the manufacturing process and again when completed to ensure the highest quality.
General Aviation
FFC manufactures and stocks bladder replacement fuel cells with on-the-shelf inventory for the following aircraft:
Cessna
Piper
Beechcraft
Aerocommander
DeHavilland
Drain Valve
FFC also offers an improved Drain Valve solution for Cessna, Piper and Beechcraft aircraft.  Our drain valve will out perform the O.E.M. valve and prolong the life of your new fuel cell.
Helicopter
Float and Fuel Cell currently manufactures more than 20 rotorcraft fuel cells supporting Bell Helicopter platforms.  All constructions offered are registered TSO-C80 constructions and our P2595 crash-resistant constructions surpasses OEM standards with a total compliance of 14CFR, Part 27.965.  FFC is the only aircraft fuel cell / fuel bladder manufacturer to offer a commercial crash-resistant replacement for the Bell UH-1H lowering the aircraft weight by close to 100 pounds.  Improved fuel cell solutions and on time delivery.
Military
FFC manufactures fuel cells and is an approved source for the F-5 and C-130 platforms.  All current and future 
military fuel cell constructions conform to MIL-T-6396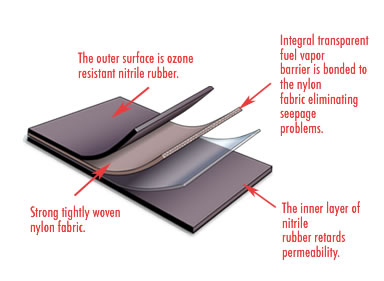 Marine/Non-Aviation Cells
FFC has vast experience in the design and fabrication of both fuel containment systems and the addition of auxiliary fuel storage for marine use. FFC can also manufacture or repair bladders for NON-FUEL purposes.  This includes inflation bladders and storage bladders.  The possibilities are infinite and are only limited by your imagination.
Call us to manufacture or repair fuel cell bladders and non-fuel bladders!